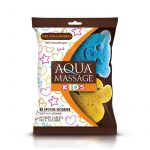 Aqua Massage Kids 2 soft hypoallergenic bath sponges
Soft, coloured and 100% hypoallergenic sponges, teddy bear and ducky shaped for a delicate and funny bath. Large porosity sponge for a delicate cleansing and easy squeezing. Available in nice and colored shape.
Description
Rinse well before and after each use. Store in a clean and dry place.