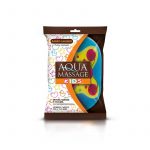 Aqua Massage Kids Soft and gentle bath sponge
Decorated kid's sponge. Soft, fine pore bath sponge, very gentle and soft touch, made strictly with 'CFC Free Sponge". Thermo printed bath sponge with only harmless and non-toxic pigment, with cute characters, soft grip and bright colors, for making bath time a funny game!
Description
Always use the kid's sponge wet, with or without bathfoam. Rinse thoroughly and well wring before and after each use. Let dry air. WARNING: this sponge is not a toy! If ingested, the sponge can cause asphyxiation. We always recommended to use it at the presence of an adult.