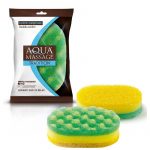 Aqua Massage Tradition 2 in 1 massage sponge
Double action massage sponge. The special embossed surface gives a pleasantly fizzy massage to the skin and stimulates blood circulation; the special microbubbles fibre, allows an effective draining massage, counteracting the 'orange peel' effect , typical of cellulite. The extra-soft inner sponge, strictly a 'No CFC production', making the bath sponge easy to grip and with just few drops of detergent develops a rich lather.
Description
Always use wet, with or without bathfoam. Rinse thoroughly and well wring before and after each use. Massage with gentle circular movements. Do not use for more than twice a week and not more than five minutes. Prolonged and excessive use can cause irritation on sensitive skin. In this case reduce the frequency and duration of use.