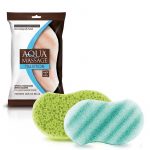 Aqua Massage Tradition Energizing massage sponge
Revitalizing massage sponge. The embossed layer for a deep massage reducing stress and for a skin tonifying peeling. The soft, easy to rinse, large pores sponge for a gently cleansing. Dermatologically tested, No-Freon synthetic foam origin.
Description
Well rinse and squeeze before and after each use. To be stored in a dry and clean place.