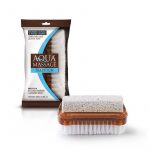 Aqua Massage Tradition Hands & feet brush
Nail brush with soft nylon bristles and pumice stone. For Your manicure and pedicure essentials: one side to clean and polish Your nails, other side to remove rough skin.
Description
Rinse well the bristles after each use.To be dried and stored in a clean place.