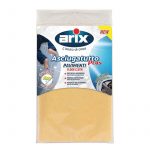 Arix Asciugatutto PLUS floor cloth
Synthetic chamois floor cloth large size. The special composition based on cellulose and polyurethan assure a great texture and and high tech performance. Suitable for washing and wiping all surfaces at home even the most delicate ones. To be used wet and well squeezed for deep dirt removal even of the toughest greasy residue. Soft and easy to wring. High absorbent, leaves no halos neither lint on the surface. Ideal also for large tile surfaces or steel, glass and wood area. Suitable for car cleaning too.
Description
Rinse thoroughly before and after use. Do not use with bleach or aggressive detergents. Dry hanging flat and stretched. eep it away from heat sources.