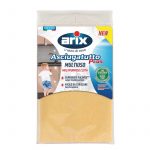 Arix Asciugatutto PLUS multipurpose cloth with silver ions
Innovative utility chamois cloth treated with silver ions. Ideal for washing and wiping all home surfaces. Thanks to special fibres it easily removes dust, grease and marks without scratching nor leaving any residue. Spick-and-span cleaning of delicate surfaces like glass,mirrors, stainless steel and marble. Soft and smooth texture for better handling and easier squeezing. The special silver ions treatment keeps it longer sanitized thus preserving its peculiar and quality features.
Description
Rinse thoroughly before and after use. Do not use with bleach or aggressive detergents. Dry hanging flat and stretched. eep it away from heat sources.