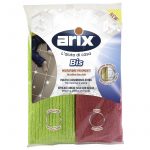 Arix Bis – Twin set coloured microfibre floor cloth
Twin-set coloured microfibre floor cloths for separated cleaning areas as kitchen and bathroom. The vertical striped one allows the thick dirt removal even from floor leaks; the soft and rich one is the ideal for the safe cleaning and wiping of delicate surface like marble and parquet. The ultra-thin microfibre grant a superior absorption capacity and a deep down cleaning of the most difficult stains, dirt and greasy spots. Used dry, theyメre ideal for floor dusting. Effective with water only, no chemicals!
Description
Microfibre cloth to be rinsed, well squeezed and hanged up after each use. Do not use the microfibre cloth with bleach or aggressive detergents. Can be washed by hand and soap or by washing machine up 40° without softener.