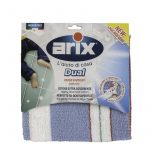 Arix Dual – Cotton and microfibre floor cloth
Floor cloth of top quality cotton terry weaved in with special thin microfibre of high cleaning power. Maximum absorption and deep dirt removing capacity. Ideal for deep and safe cleaning of ceramics, stoneware, tiles, marble and parquet.
Description
Wash the terry cotton floor cloth before the first use. To be rinsed, well squeezed and hanged up after each use. Do not use with bleach or aggressive detergents. Can be washed by hand with neutral detergent or by washing machine up 40° without softener.