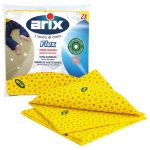 Arix Flex nonwoven floor cloth
Super soft nonwoven floor cloth, made with super soft fibres for both safe and efficient cleaning of all surfaces: excellent for dusting, washing and wiping parquet, marble and all delicate surfaces. Its microperforated texture grants higher absorbency and wear resistance.
Description
Wash the floor cloth before the first use. Floor cloth to be rinsed, well squeezed and hanged up after each use. Do not use the floor cloth with bleach or aggressive detergents. Floor cloth can be washed by hand or by washing machine up 40°.