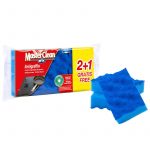 Arix Masterclean Delicate sponge scourer with antibacterial treatment – value pack 2+1 FREE
Multi-use sponge with special non scratch waved scourer coating, recommended on delicate surfaces such as teflon, induction, stainless steel. Soft and handy sponge with special treatment to prevent the build-up of bacteria and odours inside the product.
Description
Recommendations for use and care are the same as for a product not treated with an antibacterial agent. Rinse well before and after each use.