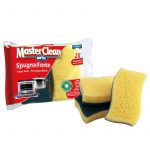 Arix Masterclean Heavy-duty antibacterial – sponge scourer
Sponge scourer with antibacteria treatment. Extra -strong abrasive fibre with anti-grease treatment in order to prevent absorption of dirt and grease removed: fiber keeps longer effectiveness. Sponge is softer and easier to rinse. Abrasive fibre and sponge with special treatment to prevent the build-up of bacteria and odours inside the product, improving its shelf life. It deeply removes grease and stubborn stains from pots and crockery, stovetops and ovens, grills and all non delicate surfaces.
Description
Recommendations for use and care are the same as for a product not treated with an antibacterial agent. Rinse well before and after each use.