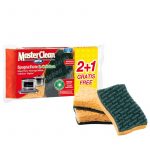 Arix Masterclean Heavy duty cellulose sponge scourer with antibacterial treatment – value pack 2+1 FREE
Cellulose sponge scourer with extra-strong, anti-grease fibre, ideal for the deep removing of grease and stubborn stains from pots and crockery, stovetops, ovens and all non delicate surfaces. Abrasive fiber with anti-grease treatment, in order to prevent absorption of dirt and grease removed: fiber keeps longer effectiveness. Extra absorbent, 100% natural cellulose sponge with ergonomic shape for a more comfortable use. Fibre with special treatment to prevent the build-up of bacteria and odours inside the product.
Description
Recommendations for use and care are the same as for a product not treated with an antibacterial agent. Rinse abundantly before the first use and after each use. Test its abrasive power beforehnad on a inconspicuous area of the surface to be cleaned. It gets dry in the open air but just put it under water and it nicely return to its original soft shape.