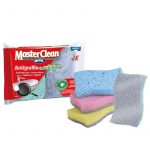 Arix Masterclean Natural cellulose sponge with non-scratch fibre
Cellulose sponge scourer with non-scratch, silver fibre, ideal for the deep but gentle cleaning of non-stick pots, ceramic, glass, stainless steel, bathroom fixtures. Soft, absorbent sponge with ergonomic shape for a more comfortable use. Non-scratch fibre with special treatment to prevent the build up of bacteria and odours inside the product, improving its shelf life.
Description
Recommendations for use and care are the same as for a product not treated with an antibacterial agent. Rinse well before and after each use.