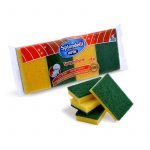 Arix Splendelli Spugnaforte – extra scouring sponge 4 pcs
Sponge scourer with strong and long lasting abrasive fibre, effective against tough dirt and grease. Ideal for thorough cleaning of pots, pans, dishes, ovens, kitchen worktops and all non delicate surfaces. Thanks to the medium porosity sponge, it's softer and easier to rinse. Resistant to diluted bleach.
Description
Rinse thoroughly before and after each use. Check its abrasive power on an inconspicuous area to be cleaned beforehand.