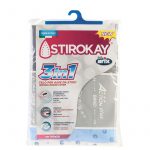 Arix Stirokay 3 in1 ironing board cover
Cotton ironing board cover with soft foam layer added to special treated bands for a comfortable, rapid and perfect ironing. The soft cotton with foam guarantee perfect ironing, the "iron speed band" treatment activated by the heat from the iron, releases silicon particles that help a quicker iron gliding on the clothing, the "safe stop band" allows an effortlessly and faster ironing. Fast means also save energy. Laminated for a better resistance to high temperature. Printed cotton with atoxic colours. Easy fixing system.
Description
We do not recommend machine washing.