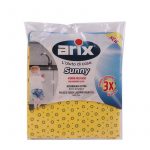 Arix Sunny – Yellow multipurpose soft cloth
Yellow multipurpose nonwoven cloth made of top quality fibers enabling to pick up with one movement also the finest dust. It can be used also wet and well wringed for thorough cleaning of dirt and grime and fot the evenly wiping of all the washable surfaces in the house.
Description
Wash the utility cloth before the first use. To be rinsed, well squeezed and hanged up after each use. Do not use with bleach or aggressive detergents. It can be washed by hand or by washing machine up 40°.