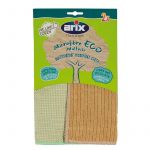 Arix We Like Green Microfibre Eco multipurpose cloth – 2 pcs
Twin-set multipurpose cloths made with 100% recycled microfibers, ideal for separated cleaning areas, kitchen and bathroom. Eco-effectiveness: the ultra-thin microfibre grant a superior absorption capacity and a deep down-cleaning of the most difficult stains without chemicals, just with water only! The striped one allows the thick dirt removal even from tiles leaks; the waffled cloth with ultra-thin fiber wipes and polishes all surface without streaks and lint. Used wet or dry are both successful. 100% recycled paper packaging.
Description
to be washed and well wring before and after each use. Do not use with bleach or aggressive detergents. Machine washable up to 60, no softener.