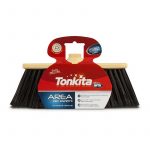 Tonkita Area outdoor broom
Extra-strong outdoor broom suitable also for professional use, made of totally recyclable materials. Thanks to the rigid bristles made of recycled materials, It's the best for energic removal of grease stains and encrustations. Recommended for all types of rough surfaces, also for washing courtyards, sidewalks and cobblestones.
Description
After usage keep it hanging or with head upright for better maintenance. Don't store to high temperatures.