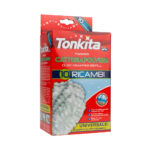 Tonkita Dust trapper refill – 10 pcs
Disposable refill for dust-trapper kit – 10 pcs. Thanks to its blend of fluffy, highly electrostatic fibres and 3D waffled stripes, it deeply removes dust, hair and other small dirt from every surface. Soft and flexible, easily reaches the smallest corners and tight space too: ideal for a quick and effective dusting of furniture, bookcases, venetian blinds, fixtures, TV and PC.
Description
Toss the duster until the fibres leaves dirt and impurity and become fluffy. Keep out of reach of kids and pets in order to avoid accidental ingestion.