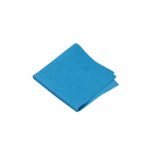 Arix Professional Microgrip 40 multipurpose microfibre blue cloth
Microfibre multipurpose cloth coated with Polyurethane. Created to ensure high absorbancy, deep cleaning of smooth surfaces (inox, windows and mirrors) along with good rinse and squeezing properties: durable, resistant and lint free.
Description
Use damp and well wrung; rinse well after the first and last use. Washable up to 90° without softner.