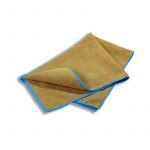 Arix Professional Micromax 60 microfibre floor cloth
Microfibre floor cloth, very high quality tissue. Ideal for all kind of smooth surfaces like gres, parquet and tile. Thanks to the special texture the product is very resistant and maintain its properties even after several washings.
Description
Use damp and well wrung; rinse well after the first and last use. Washable up to 90° without softner.